Home
President's Message
<<CRG Basics of Rubber Technology Course>>
Schedule of Events
Executive Board
Scholarships and Education Awards
Membership
Donations
Payments
Sponsors
Newsletter
Rubber Division ACS
Annual Golf Outings
Our Bylaws
To Be Held from March 10th through the 12th 2020 at SKF in Elgin, IL
This course is organized and held every other year by the CRG Education Committee and we will again hold this course in 2020 at SKF Sealing Solutions in Elgin, IL. If you are interested in signing up for our course, you can click the link above to download the application form. Further directions on how to apply are explained on the form. Below on this page, you can read more about the course itself.
The 2018 course was a great success with 32 course participants and some 19 professionals volunteering their time to share their professional expertise. For the fourth time, we held a social night following the first day of the course. This event was again well-attended and received with some 40 people which included committee members, course speakers, sponsors and students. Special thanks goes out to SKF, their staff, speakers, sponsors, and organizers for their hard work. The CRG Education Committee looks forward to further improving this course for March of 2020.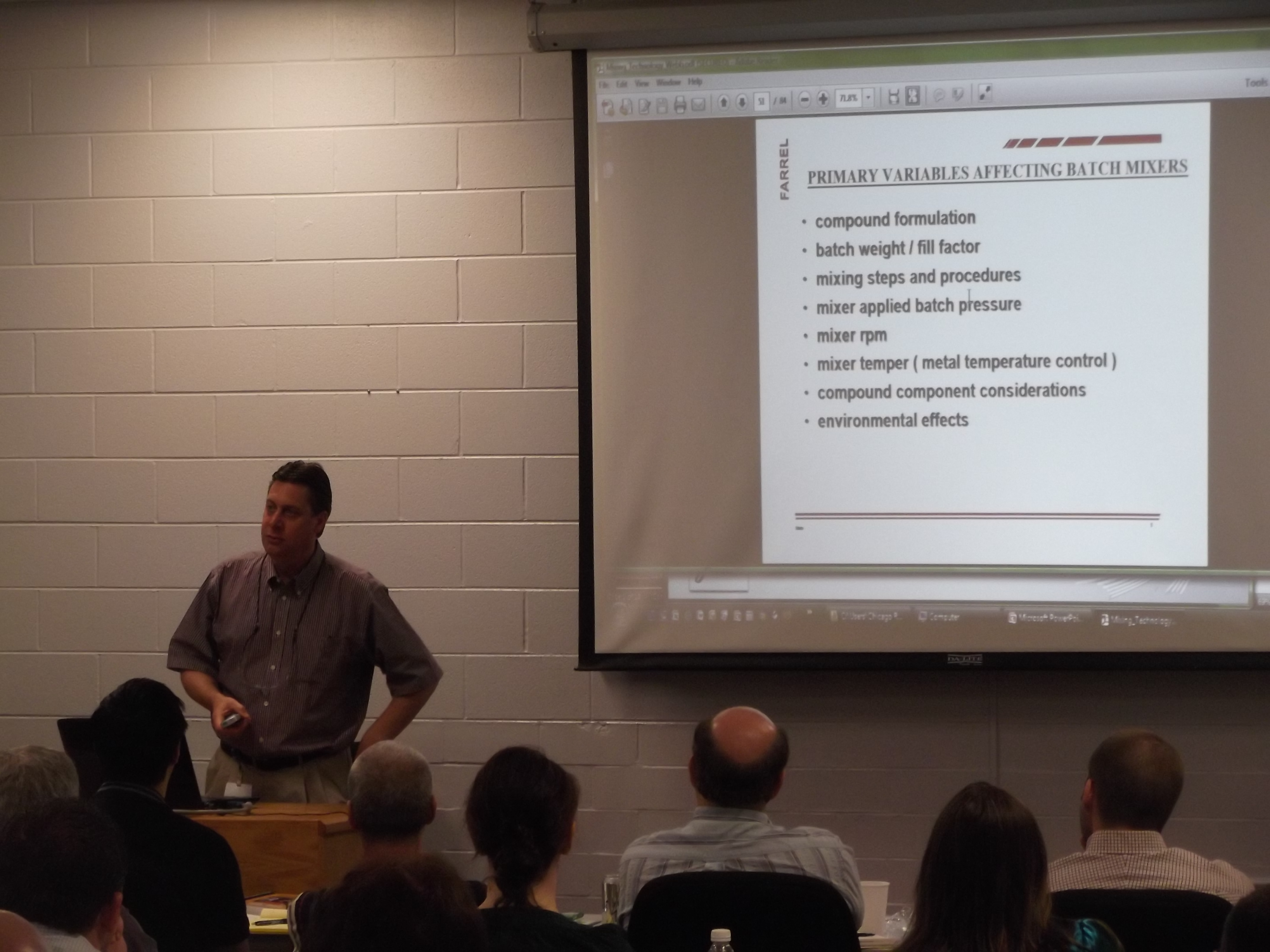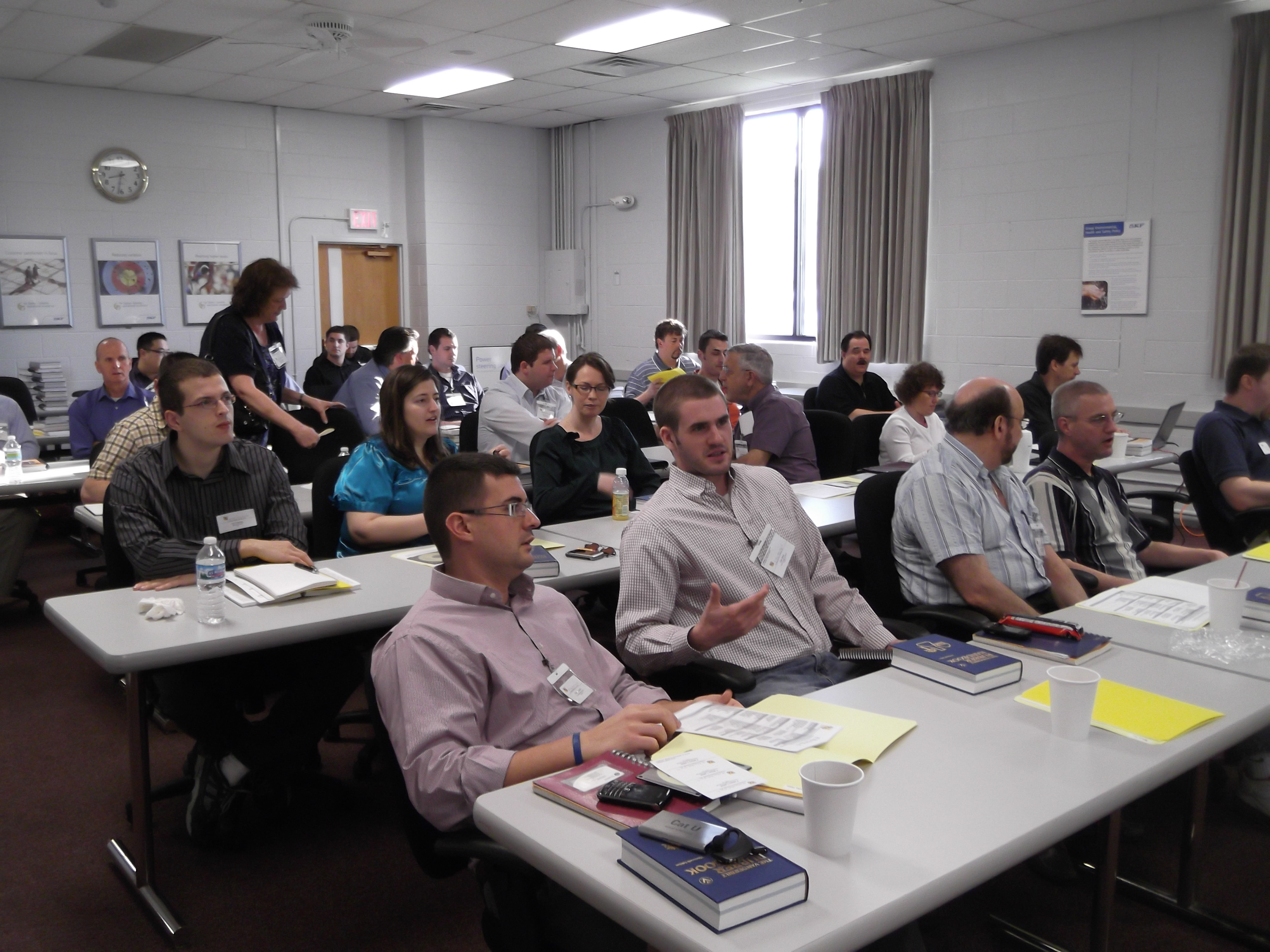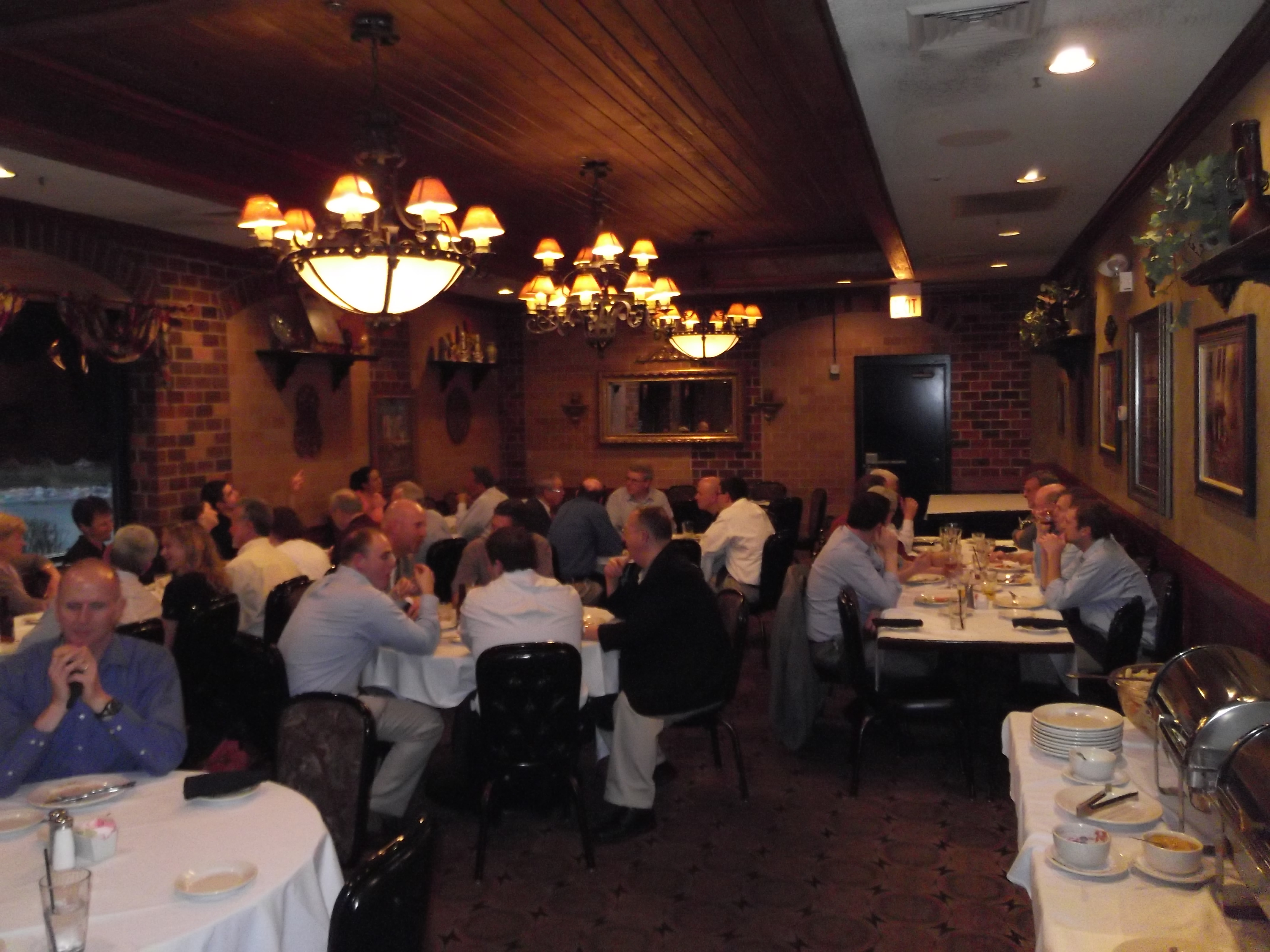 Above Left: Rick Webb presents on Mixing Technology, March 21st, 2012. Above Right: Course participants talk amongst themselves prior to the next presentation, March 21st, 2012. Below: 2012 CRG Course Social Night at Jimmy's Charhouse, Elgin, IL
Who Should Attend
This course is designed for anyone who has an interest in learning more about RUBBER. Those who buy and use rubber parts will gain knowledge of the properties of different rubber materials. Those who sell rubber parts will be able to discuss these different materials with the manufacturer and the end-users will be able to identify the best material for the job. Supplier Customer Service employees will learn about their customers' businesses. Moreover, those who make rubber parts will increase their ability to make rubber parts that fit today's more demanding market.

Instructors

The instructors are experts currently working in the rubber industry, with many years experience in each of the various subject areas. All instructors are chosen for their knowledge of the subjects presented.

Location
SKF
College
is the training facility for SKF Sealing Solutions, the world's leading supplier of bearings and seals. Located at 900 North State Street in Elgin, Illinois; this is approximately one mile south of I-90 on Rt-31. There are many hotels in the area.

COURSE OVERVIEW
The introduction to the course includes the history of rubber and rubber applications

Various polymers are discussed including:

Natural Rubber, Styrene Butadiene Rubber (SBR), Polyisoprene, Polybutadiene, Nitrile (NBR), Hydrogenated Nitrile (HNBR), Polyacrylate (PA), Epichlorohydrin (ECO), Hypalon (CSM), Vamac (AEM), Neoprene (CR), EPDM, Butyl, Fluoroelastomer (FKM), Urethane, Silicone (VMQ), and Thermoplastic Elastomers.

Additional topics include:

Ingredients necessary for formulating a rubber compound such as antioxidants, antiozonants, black and non-black fillers, plasticizers, softeners, oils, accelerators and curing agents

The mixing process and equipment

Methods of handling a variety of compounds

Methods of forming a rubber part including molding, extrusion and calendering

Rubber to metal bonding

Test methods, test instruments, quality control and rubber specifications

Tours of

Compounding and mixing facilities

Physical testing laboratory

Analytical testing laboratory

Students will receive hard copies of presentations, digital media copies (Data CD or Flash Drive) and two books about rubber technology.

"Fundementals of Rubber Technology" Edited by R.J. Del Vecchio

The Vanderbilt Handbook

Any literature from the speakers

Continental breakfast and lunch is provided for all registrants as part of the registration fee. However, on Tuesday, March, 10th and Wednesday, March 11th, after our lectures, the CRG Education Committee will sponsor two Social Get-Togethers. Social Nights give everyone attending a chance to meet the other students, speakers, and Education Committee members outside of the classroom setting. Food and refreshments will be included at these functions.
REGISTRATION
The class will be limited to a maximum of 35. There must be a minimum of 20 attendees in order to hold the class. If there are not enough people that signup by the deadline date (Typically Mid-February of the Course year), the course will be cancelled. In the event of cancellation, your registration fee will be promptly returned.
SIGN UP EARLY AS PREVIOUS CLASSES WERE SOLD OUT!
Accommodations in the Area
Country Inn and Suites
2270 Point Blvd, Elgin, IL 60123
(847) 426-6400
Website
Quality Inn
500 Tollgate Rd, Elgin, IL 60123
(847) 608-7300
Website
Directions
Hampton Inn

405 Airport Rd, Elgin, IL 60123
(847) 931-1940
Website
Directions
Super 8 Motel

435 Airport Rd, Elgin, IL 60123
(847) 888-0088
Website
Directions
Holiday Inn

495 Airport Rd, Elgin, IL 60123
(847) 488-9000
Website
Directions
Courtyard by Marriott

2175 Marriott Dr, West Dundee, IL 60118
(847) 429-0300
Website
Directions
TownePlace Suites

2185 Marriott Dr, West Dundee, IL 60118
(847) 608-6320
Website
Directions
General Directions to Hotels and SKF Sealing Solutions:
Exit 31 North from I 90 to reach this list of hotels.
If you are staying at one of these hotels, indicate that you are visiting SKF Sealing Solutions to determine availability of their corporate rate.
Exit 31South from I 90 to reach SKF Sealing Solutions.
Computer users can find maps of the area on your favorite map website, such as Mapquest, Yahoo Maps, and Google Maps.
CRG Education Committee
Chair: Mark Petras
-- Retired -- Chem Rep
Rich Alt -- Molded Rubber Design
Robert Klingender
-- Retired -- Zeon Chemicals
Jessica Petras -- Chem Rep
Anthony Petras -- Chem Rep
Deidre Tucker -- SKF
Mark Hlinak
-- RotaDyne
Mark Guzzaldo -- Harwick
Rick Webb -- SKF
Updated 03/03/2020